United Church Elects New Pastor!
Rev. Charlene Hill begins Nov. 20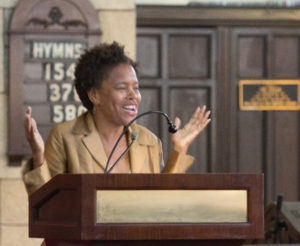 Rev. Charlene Hill is the Pastor-Elect of the United Church of Hyde Park. She will begin her ministry with us on Sunday, November 20, preaching at the 10:30 a.m. service. Pastor Charlene has led the Good News Community Church United Church of Christ of Rogers Park in Chicago for the past nine years. Like Hyde Park United, Good News Church is a multicultural, intergenerational congregation. As the daughter of a military man, Charlene's childhood years were equally divided between islands, urban areas, and rural America. Her worship experience was also diverse, including Baptist (childhood years), charismatic non-denominational, Mennonite, and now the United Church of Christ. Her life experiences inform her spirituality and contribute to her passion for pastoring a church where variety and differences are celebrated as God's creative artistry.
Pastor Charlene is a graduate of McCormick Theological Seminary (M.Div.) and the University of Chicago (M.A.). She has been an ordained minister for eleven years. She is bi-vocational, finding meaning and passion in being a psychotherapist part-time. Pastor Charlene has served UCC congregations in Galewood and Bryn Mawr, as well as the Reba Place Mennonite Church. She authors a blog, www.smallstuffsweat.org. She is the proud parent of Josiah Hill. Her family includes her partner, Danielle, also an ordained minister, and stepson Ezekiel. She enjoys time with family and friends, as well as traveling, reading, crocheting, photography, scrapbooking and writing letters on beautiful stationery. We welcome our new pastor, the Rev. Charlene Hill.